About Spruced Personalized Decor
A Little About
Our Retail Shop
It's Now Open!!
When I decided to live and move my business to Midway, I decided to purchase a dilapidated historic home on 206 W. Main Street. An original Midway home, constructed in 1872, I had a vision for this quaint home that holds years of stories behind its many walls. I wanted to renew this historic home as a center stone gem of the community.
I peeled through layers of wallpaper, dating back to the 1940s. You could see the decorating trends going farther back into history as we took the old wallpaper off the walls. Intending to preserve as much of the historical significance and charm of our "new" home, we performed renovations, uncovering some of the original shiplap, and protected these elements into the final design. The construction team and I found historical artifacts and placed them in a display case in my studio. It's like having a history museum of the house!
When you walk into Spruce Personalized Decor, I want you to feel the beauty and inspiration for my "new home" when you work with us.
Now painted a beautiful, brilliant yellow, people from the town admire the home and its inviting charm. It's become a real social gathering space, with customers and their friends stopping by for a chat and browsing Jenn's latest eclectic home decor selection.
Spruce Personalized Decor
Mission Statement
""Spruce Decor is committed to providing exceptional customer experience through a team of knowledgeable and caring employees. Offering our clients high-quality and personalized home furnishings and building long-term relationships with our clients."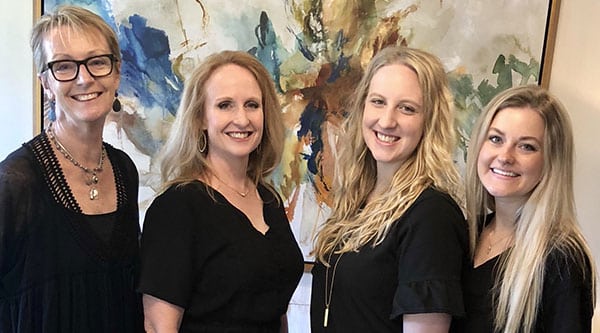 Inspired Interior and Custom Design to Fit Your Lifestyle
What inspires you to get up, walk downstairs, and brew your cup of coffee? Why are you inspired by the world we live in? What makes you feel most comfortable in your home environment?
Each individual client is unique and is driven by their own "why." My goal is for your home to reflect who you are, your purpose, and your style.
Frequently people tell me,
"I don't know what my style is."
My experience working with hundreds of unique individuals has developed my signature process that allows us to work together as a design team to identify the style, look, and colors that express your lifestyle.
Do you have a particular design in mind? Let me and my design team run with your idea and transfer your concept into your living space reality. Our time designing together is a valuable time used to create an authentic design that truly reflects the "real you." Let's talk about your design objectives and turn them into a beautiful and satisfying living space that reflects your taste and way of life to make your vision a reality!
The Spruce Decor Team of Designers
Work with our team at Spruce Personalized Decor! Our team is a ubiquitous mix of talented designers such as Fiona Hughes and Janelle Van der Werf, who have many years of industry experience. Our in-studio assistant designers have an excellent eye for color and design. Let Spruce's Design Team develop your personalized living space to reflect your "true you"! Find out how our customer-focused experience will give your home remodel or home design process an effortless feel when designing, shopping for a unique find, or a remodel for your home or business.
Jenn Mangum
Principal Designer / Owner
Jenn is an experienced interior designer and created her firm in Washington, D.C., in 2004, where she put together a strong team of designers to provide personalized service to her clientele living in the D.C. area. Jenn believes that client participation is vital for home design success. Therefore, she partners with her designers and counts her clients into her decorating contingent, bringing new ideas to create harmonious living environments for their day-to-day lives. Her motto — "I Create Inviting Interiors For Authentic Living" — which gives you an idea of how Jenn lives and gives her clients the best experience.
Janelle Van der Werf
Designer
Janelle joined the Spruce Interior Design team in 2020. She has a great sense of style and brings that to each project. She has excellent attention to detail, which translates into well thought out design plans.
Fiona Hughes
Designer
Fiona has been with Spruce since we opened the doors in 2018. She loves a good design challenge and can think outside the box. She has a fantastic eye for color and how to make a space comfortable and functional at the same time.
Certified member of the IRN
"The Interior Redecorators Network™ (IRN) is the world's preeminent organization of interior redecorators. Members involve, inform and inspire, providing affordable, professional, top-quality design expertise to create comfortable, attractive and functional living spaces by making the most of what you have."
Associate Member of ASID
"The American Society of Interior Designers (ASID) is a community of people — designers, industry representatives, educators and students — committed to interior design. Through education, knowledge sharing, advocacy, community building and outreach, we strive to advance the interior design profession and, in the process, to demonstrate and celebrate the power of design to positively change people's lives."
Spruce's Personalized Process
Phase One: Initial Consultation
During our Initial Consultation, we measure and photograph the space. We then create a priority list of items needed and plan the budget.
Phase Two: Design Development
We will create a floor plan to give you a visual representation of before-and-after design possibilities.
Phase Three: Plan Presentation
We will then provide a presentation guiding you through the floor plan, along with our design concepts and material options. We'll collaborate with you to adapt the plan to your exact specifications.
Phase Four: Implementation
We will guide you through the shopping, coordination, and placement of your new furniture, paint, lighting fixtures and window treatments.
Phase Five: Finishing Touches
We will work with you to further personalize your home with art and accessories.
A Little
Bakery
Attached to our store front is a charming bakery – Midway Bakery on Main. The bakery was added to the structure around 2002. Come by and get some homemade breads, muffins, cupcakes, cookies or pies.