Visit our store
Or call for Interior Design services
in Park City and the Heber Valley

206 W Main St, Midway, UT 84049
Creating Beautiful Spaces
That Reflect Your Own Personalized Style
Inspired & Creative Design
Always needs a plan
Feel Proud Of Your Home
And feel the joy when your home is truly your haven
Welcome to
Spruce Personalized Decor –

Midway, Heber & Park City Personalized Home Interior Design Services
Interior Design
Park City, Midway, & Heber Valley
When it comes to your home's interior design, Spruce Personalized Decor has several options available to fit all timelines and budgets. We are the interior designer for Park City and Heber City. Find out why Spruce Personalized Decor can bring new life to your home in Midway and redesign or assist you with interior design and decor in your Midway home or office. Bring home artwork, decor, or recover your current furnishings in your Hideout home.
Spruce Decor can assist you with the entire home design process with our interior decorator team or stop by to pick up a new home furnishing to liven your office decor! Stop by and browse our showroom for a new look with quality indoor and outdoor furnishings and let our team help you choose a home design style and feel that fits your lifestyle!
Meet our team
Our team can work in many different home design and office design genres. We work as a team with our clients and gain an understanding of what you would like from your home design process.
We work with clients from all over the nation. Our number one priority is to achieve a sense of our client's design "likes" by showing pictures, touching and experiencing fabrics, and asking questions. At Spruce Decor, we want to understand your lifestyle's core and how this fits into your new home interior design or your home or office remodel. Asking questions such as, "What do you like about this design" or "What don't you like about this particular style or piece?". To dig deep and find out your favorite geometry, we ask a series of questions: "Do you like straight lines or curves? What colors do you like and not like?'". This process helps our clients develop their style if they aren't sure what their 'style' they would like their home to encompass.
I believe everyone should have their own beautiful space; as it affects their well-being and emotional health. I enjoy educating my customers about the quality and where they should spend money on quality decor. It's all about price points and budgets.
Our team can accommodate different-sized budgets, so each client can feel they are receiving the look and feel they want for their home at the price point they can afford.
New
Home Design Center
Our design center has racks of fabric, hardware, window treatments, finishes, tile, flooring, carpet samples, and area rugs that can put samples next to each other to get a good feel for what works for your style.
To be able to put everything together, color doesn't translate well through the computer screen. You can bring samples home to see what they look like at home—using home interior decorator opinion to select the right look for your lifestyle.
Schedule a consultation
Our Specialties
Creating a personalized style in every way
Room Color Ideas
& Color Palettes for
Interior Design
Color palettes and design trends are predicted, go through their cycle, and leave the market, such as grey. I create a "smart design" based in neutrals, then change out your accent colors to provide you with a great base design that you can refresh without making significant changes. Accent colors are again changing this season with blue in the lead. Browns are starting to make their way into the interior design palette, and our store offerings reflect these current decorating trends.
Using paint tools and my Spruce Color Palette Process, a team member will come out to your home and collaborate with you. Our design process is interactive, as we walk you through our step by step process, using our Color Bars Designer Paint Tool Box. This fantastic design toolbox will find the colors that feel right for your home and office space. We use high-quality Benjamin Moore and Sherwin Williams for the best durability, wear, and look. Our toolbox includes small to large paint swatches. Paired with our paint consultation, you will have your personalized design colors ready for your interior painter!
Home Furniture
& Home Accessories
The right piece of furniture, art, or accessory can dramatically enhance a room's complexion and feel. We take the time to understand what your wants and needs are and help you incorporate new special touches to create a space that is not only beautiful but functional, comfortable, and reflective of your personality.
Twice a year, I travel to large furniture markets to see new trends. I align Spruce with vendors who provide quality products and have a comparable level of passion for customer service. Additionally, all decor and home furnishings at Spruce are curated personally. I hand choose with vendors, on-site, unique home accessories, and custom furnishings that fit the look and feel of living in a mountain town.
Have a chair you love and would like to have updated? Looking for that perfect pattern and color for your home furniture and office space? Come into our home design center to look at characterful custom upholstery made in America. We offer our consultation to assist you in finding the right match for your look and lifestyle.
We offer a wide variety of office furnishings and home furnishings at various price points to fill all budgets. I'm happy to work with you to create your home design plan or office design plan within your time and budget boundaries.
Come in to see, sit in and feel our newest line of eco-friendly outdoor furniture made in the US from recycled plastic bottles! Experience our durable and attractive outdoor furniture line for yourself. Find out how eco-friendly and budget-friendly outdoor furniture can be.
Custom
Artwork Design
Interior design inspired by nature, come in to see our mountain town selection, nature, and animal artwork throughout our home design center. We have many options, from custom art and accessories to art prints for home or office. Find a variety of different art mediums with a focus on barns, landscapes, and a selection of modern and contemporary art.
Remodeling
& New Home Design
Let's work together to ease the stress of home design decision-making for a seamless process. We can work with your contractor, or we can also refer you to a reputable local contractor. Would you like to work independently with us? No problem! We are excited to work with you individually or work with your current construction and contractor team.
You can also personalize your look with pieces from outside vendors or choose from our quality home furnishings. We can always recommend brands and furnishings that offer great value along with a quality look and feel.
While it's best to start work with clients at the beginning of your design journey at the start of your home or office remodeling, our team is glad to join your process at any point in your new construction.
When remodeling, our experienced home design team will make selections based on our client design specifications, and show your selections to contractors. This is essential for purchasing the correct amount of product for more accurate pricing and less resource waste.
Maximize your new home, or home remodel space to ensure your new look reflects your unique style and personality by creating a home space or office environment with an original design.
Our team is flexible and will work within your budget, keeping your decorative goals in mind. We assist our clients and manage design expectations for your budget and choose samples that will work for your planned home design.
FIND OUT MORE ABOUT OUR ONLINE PRICE MATCHING BY GIVING US A CALL TODAY!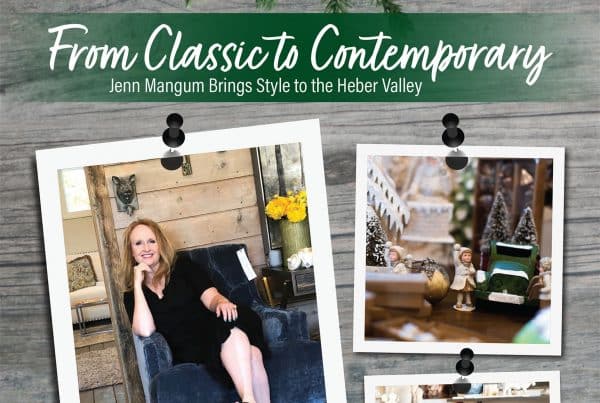 Neighbors of Heber Valley featured article: From Classic to Contemporary
When Jenn Mangum decided to move her business and settle in Midway, she was unaware of how her presence would bring new revitalized energy to this small, charming Utah town. "I have a real passion for restoration, and I actually…
Jennifer believes a good interior designer should always listen, care, and deliver beautiful results. Spruce Personalized Decor is a Park City interior designer that serves clients primarily in Park City, Utah, Midway, Utah and the surrounding areas including. Visit the best furniture store Park City has to offer. People even remark that we have the best furniture store Midway has to offer. Always creating new ideas and designs for clients with spaces of any size. This is interior design Park City at it's finest. Also serving: Salt Lake City, Wasatch County, Summit County, and Utah County.
"Jennifer is a consummate professional who has helped me with several design projects over the past few years. I'm one of those people who often feels overwhelmed by the many choices available. Jennifer always takes my artwork and personal style into account and assembles a stunning plan every time. Friends and family often comment that I have a beautiful home and that's no doubt due to Jennifer's design expertise."

Linda Peterson
"What a delightful person Jenn is! Not only is she a joy as a human being, working in the building industry for more years than I want to admit, I have worked with numerous "designers". She was the true definition of the real thing. She came to our first meeting with swatches galore and a book totally laid out with her vision. She understood where upgrades were important and where keeping to the basic selections didn't diminish her over all look. She knows her business! ..."

Claudia Wrightson
"Working with Jennifer throughout my home was a dream! She took the time to learn what styles made me happy and always included those choices along with new and interesting ones that she would recommend. I soon began to feel like I was working with a friend and that we both wanted an exciting result. Several years later she helped me transition and downsize from my family home to a new condominium home that is a better space for me at this time in my life. ..."

Jan Callaway
"Jennifer Mangum is a talented interior designer who works hard to hear and understand the vision and preferences of her clients while lending her knowledge, design expertise, and exquisite taste to any project. I was nervous at first to engage a designer – I had never worked with one before and was struggling to grasp how someone who didn't know me could help take my home from bare rooms to what I had pictured in my mind. But Jennifer did just that with the end results even more stunning than I ever imagined! ..."

Trish Lakis
"I worked with Jennifer for many years, beginning back in 2011, and cannot recommend her highly enough. She took the time to get to know me and my style, not to mention my budget, and always found a design that worked for my life. She did entire rooms, but also helped me just pick out paint colors or choose a particular piece of furniture. ..."

Erin Roberts